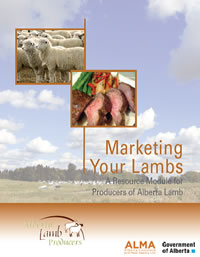 What is the best way to market your lambs?
The purpose of this module--Marketing Your Lambs--is to outline the marketing choices available to you as a lamb producer and to explore the opportunities and demands associated with each. The first part of the module will introduce lamb market opportunities in more detail to show the drivers of lamb production and lamb meat marketing. The second part of the module will introduce and explore each of these market options. We'll review the advantages and challenges associated with each, and provide tips for selling into each market. Finally, the module will touch on other market considerations related to the marketing of lambs. We'll point you to the many excellent resources on the Alberta Lamb Producers' website, as well as other industry and government sites. The information in this module is intended to give producers the insight they need to build their skills in marketing their lambs.
This publication has been made possible through joint funding from Alberta Agriculture and Rural Development, and Alberta Livestock and Meat Agency.
Marketing Your Lambs (pdf)